#EVENT : 1st Participation for LACROIX at SEA AIR SPACE
LACROIX - will exhibit the Sylena Mk 2 Decoy Launching System at the Sea, Air, Space Exhibition at National Harbor, MD, USA.
ABOUT SEA AIR SPACE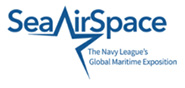 Founded in 1965 by the U.S. Navy League it has grown into the premier Maritime and Naval Exhibition to be held in the United States. The aim is to bring together industry, operators, research bodies and key military decision makers at this innovative annual event.
Sea, Air, Space is to be held April 9-11 at the Gaylord Convention Center located in National Harbor, Maryland.
Sea Air Space 2018 will again provide the showcase for commercial maritime and naval defense industries to promote their capabilities to decision-makers from around the world. The US Navy & the DOD will invite Navy Chiefs and senior Navy leaders from around the world to attend. More than 290 exhibitors are expected to participate.
LACROIX's Participation
Lacroix Defense team is proud to participate as a 1st time exhibitor at the Sea Air Space exhibition where we will showcase SYLENA MK2 Decoy launcher system and related munitions

Lacroix Product Focus at Sea, Air, Space
SEA: SYLENA DLS :
On display at this inaugural event for Lacroix will be our cutting-edge compact
SYLENA MK2 decoy launching system
, which ensures superior self-protection of your naval assets.
Over the past 10 years, our Research & Development team has developed 3 new Decoy Launching Systems to meet world Navies' requirements.
Lacroix personnel will be present to discuss and demonstrate their range of naval solutions (SYLENA LW, MK 1, MK2 decoy launcher, (EM/IR/Anti-torpedo ammunition, etc.) to protect all kinds of vessels including fast attack craft, OPV's, OCV's, Frigates, etc.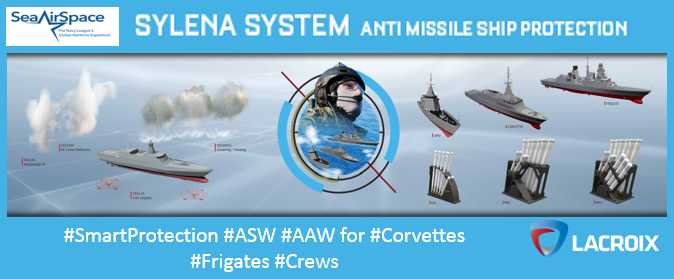 Lighter and more compact than our competitors' traditional technologies, SYLENA MK2 is particularly suitable for modernizing existing vessels and for equipping new platforms.
Due to its ease of integration, light and compact size, our range of decoy launchers have been selected by many Navies worldwide to ensure their protection against existing and emerging complex threats.
AIR: Airborne Countermeasures :
LACROIX is one of the select few countermeasures providers to be qualified in service,
STANAG compliant
, and to participate at EMBOW test (European Days for testing Threats and Countermeasures Solutions) and being part of the EPAF (European Group for Airborne Armies equipped with F16 Fighting Falcon)..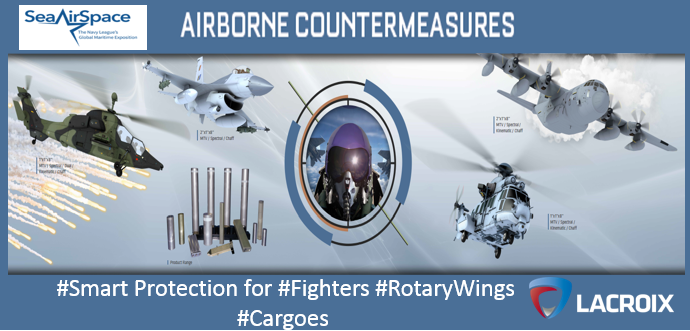 At SAS 2018 , LACROIX will showcase its latest self-protection solutions using cutting-edge technologies for advanced airborne countermeasures (MTV, spectral, dual, kinematic).

LACROIX will present a full range of solutions in all types of calibers, for combat-jets (F-16, F-18, Mirage, Rafale...), for helicopters (Apache, Black Hawk, H225M Caracal, NH-90, CH-47 Chinook, Tiger...), for Large Transport Aircraft (Hercules C130, Airbus A400M.)
SPACE: Pyro-mechanisms for Space Applications :
Our pyro-mechanisms
have both military and space applications. For example, our R&D teams at LACROIX design special components to take part in highly innovative projects such as the Micro-Carb and One Web satellites with players such as Pacific Scientific, ESA or the CNES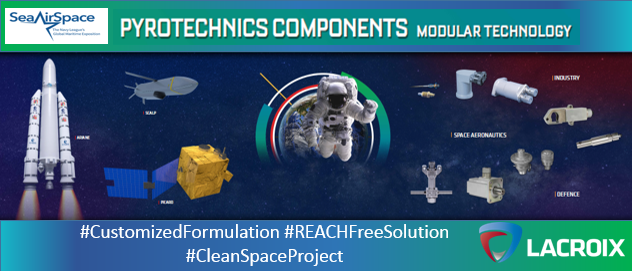 At Sea Air Space 2018, our specialists will be present to explain and discuss with researchers and panelists from the "CleanSpace " program and introduce our microperforator passivation concept. This is a unique solution to reduce space debris, with 28 years life duration, and a weight less than 100g.  The microperforator will make its first performance during Flight 2019 for Space Bus Neo.
To quote the organizer's message - "Sea-Air-Space will be a great place to participate in interactive exhibits, professional development sessions, and open forums disclosing timely information" and the Lacroix Team is eager to accept the challenge.
LACROIX welcomes you to visit us at Booth 2650