LACROIX at the 10th edition of PACIFIC in Sydney - Australia
About Pacific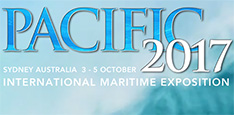 The exhibition will be held October 3-5 at the International Convention Center, Sydney (Australia).
As a major comprehensive international exhibition of its kind in the Indo-Asia-Pacific region, PACIFIC 2017 will again provide the essential showcase for commercial maritime and naval defence industries to promote their capabilities to decision-makers from around the world. The RAN will invite Navy Chiefs and senior Navy leaders from around the world to attend. 35 countries are expected to participate.
PACIFIC 2017 is strongly supported by the Royal Australian Navy, Sydney Harbour Foreshore Authority, the Capability Acquisition and Sustainment Group (CASG), the Defence Science and Technology Group, the Department of Industry, Innovation and Science, the Department of Infrastructure and Regional Development and the Government of the State of New South Wales.
LACROIX's Participation
Lacroix Defense team is proud to participate for the 1st time as exhibitor at the PACIFIC 2017 exhibition where we will showcase SYLENA MK2 Decoy launcher system and related munitions.
Meet us at Booth 3T13 on the French Pavilion near Diginext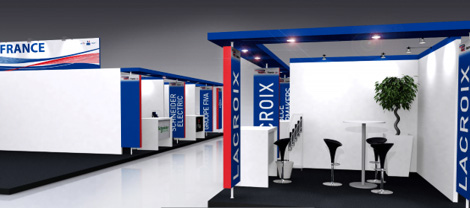 Announcement: LACROIX Regional Office Opening for ASEAN & PACIFIC areas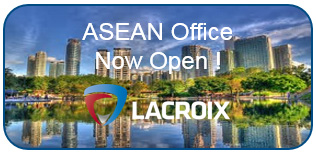 We are pleased to take opportunity of such international event to announce the opening of our new office in Asia and Pacific. After Seoul in 2014 and Abu Dhabi in 2012.
LACROIX has opened a new office in September 2017 in Kuala Lumpur, with the aim to get closer and serve our users and partners even better in Asia pacific region.
Our newly appointed Regional Manager, Mr. Rémy GARDON and team will be available to discuss LACROIX solutions in Sydney and synergize opportunities we could have together in the Land / Air and Naval domains to meet your platform self-protection requirements.
Products Focus : SYLENA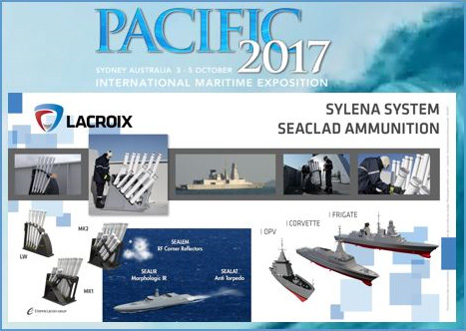 During PACIFIC 2017, we will mainly demonstrate our cutting-edge, compact SYLENA MK2 decoy launching system, which ensures superior self-protection of your valuable platforms.
These last 10 years, our Research & Development team has developed 3 new Decoy Launching Systems [#DLS] to meet world Navies' requirements.
We will be at your disposal to present all of our naval solutions (SYLENA LW, MK 1, MK2 decoy launcher, EM/IR/Anti-torpedoes ammunition, etc.) to protect all kinds of vessels (fast attack crafts, OPV, OCV, frigates, etc.).
Airborne Countermeasures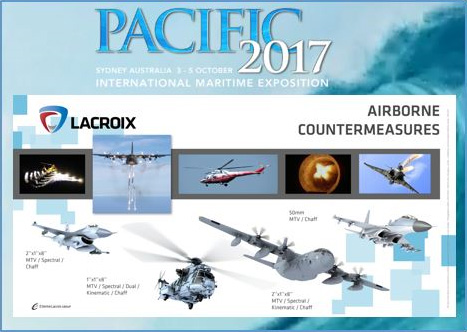 At PACIFIC 2017, LACROIX will showcase its latest self-protection solutions using cutting-edge technologies and advanced airborne countermeasures (MTV, spectral, dual, kinematic) for our Asia pacific end users and partners ;
LACROIX will present a full range of solutions in all types of calibers, for combat-jets (F-16, F-18, Mirage, Rafale...), for helicopters (Apache, Black Hawk, H225M Caracal, NH-90, CH-47 Chinook, Tiger...), for Large Transport Aircrafts (Hercules C130, Airbus A400M...)
Meet us at Booth 3T13 on the French Pavilion