LACROIX at the International Defence Industry Exhibition
ABOUT MSPO 2018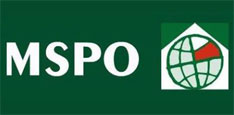 The 26th MSPO Exhibition will be held September 4-7 at the Targi Kielce Exhibition & Congress Centre in Poland.
Europe's third-largest military exhibition is also ranked among the globe's most important defense industry events.
With more than 30, 000 square meters of exhibition space, nearly 600 exhibitors hailing from 30 countries and almost 35, 000 visitors expected, this 26th edition is expected to break a new record.
The event is supported by the Ministry of National Defence, the Ministry of Foreign Affairs ... and is placed under the Honorary Patronage of the President of the Republic of Poland, Mr. Andrzej Duda.
LACROIX's Participation
In 2018, LACROIX is proud to share a booth with our Polish partner NYLONBOR to jointly promote chaff & flares for the Polish Armed Forces, but also vehicle survivability solutions for Land Forces.
Product Focus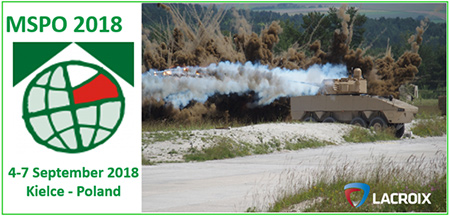 At MSPO 2018, LACROIX will be especially showcasing the GALIX AOS (Automated Obscuration System): from detection to reaction, using green NT8 munition, to protect all types of land platforms (MBT, AMV, APC, LAV, etc.). GALIX is particularly suited for the T72 MBT retrofit program.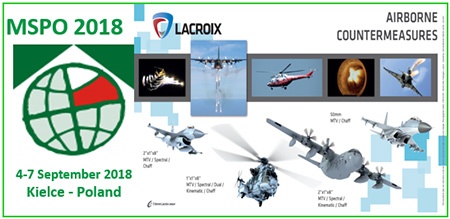 LACROIX will also present a full range of solutions in advanced airborne countermeasures in all types of calibers:
for combat-jets (F-16, MIG, Mirage, etc.), helicopters (Sokol W-3, Apache, Black Hawk, SeaHawk, Agusta, Mi-8, H225M Caracal, Tiger, etc.) and large transport aircraft (Hercules C130, Airbus A400M, etc.).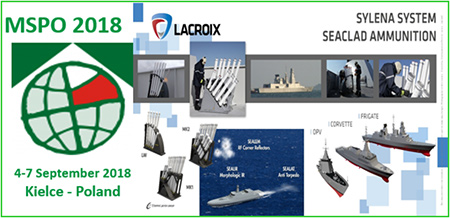 Our team will be at your disposal to discuss SYLENA LW, our naval decoy launching system, unveiled during the Balt Military Expo, to cover the requirements for KORMORAN and ORKAN class Programs.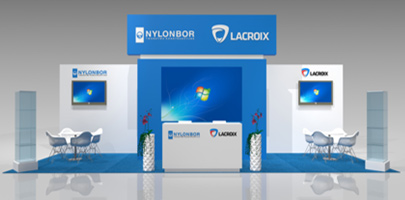 Meet Our Team at the MSPO exhibition, Hall E, Stand NYLONBOR-LACROIX.