LACROIX at MADEX 2019 in Busan, 22-25 October / Korea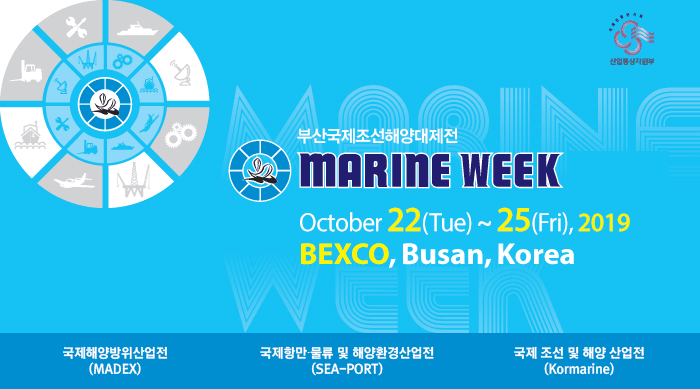 About MADEX
MADEX (International Maritime Defense Industry Exhibition) is held every two years in Busan and organized by the Republic of Korea Navy.
With more than 150 exhibitors & 15 countries expected, MADEX will once again provide the essential showcase for commercial maritime and naval defence industries to promote their capabilities to decision-makers from around the world.
LACROIX's Participation
Lacroix Defense is proud to take part for the 3rd time as an exhibitor at the MADEX 2019 exhibition, (October 22-25).
Our Team will be pleased to welcome you at our booth No. F501 - French Pavilion.
For the very first time in Korea, officials & naval specialists will discover the large scale of interoperability and communality of LACROIX's range of ammunitions, as we will present the largest comprehensive offer of related Decoy Launchers that we are providing or that are in service in the ROKN* Navy.
*Republic Of Korean Navy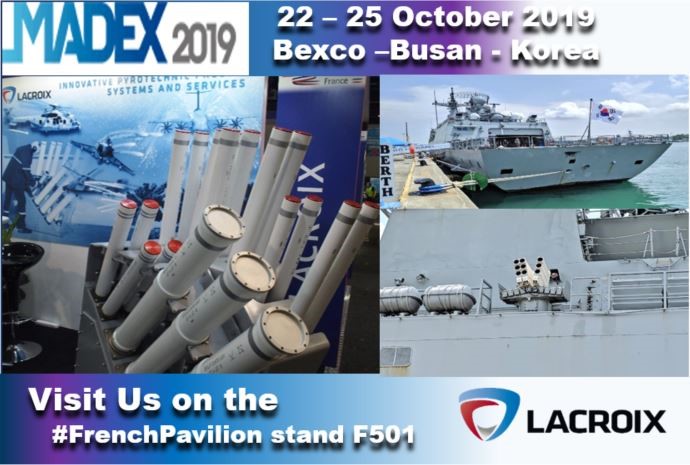 LACROIX Defense will mainly showcase the SYLENA Mark 2  Decoy Launching System and related munitions. Our Korean Partner (TS Tech) will display its KR BOC system fitted with Lacroix's NG of effects.
In the naval domain, our Research & Development team has developed 3 new Decoy Launching Systems [#DLS] over the last 10 years, meeting your operational requirements and capabilities to protect all kinds of vessels (fast attack, OPV, Frigates and larger ships...)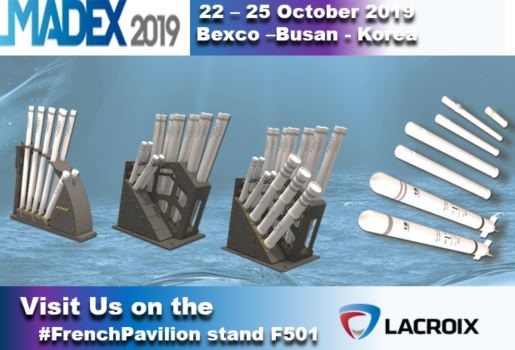 For decades, LACROIX has been providing innovative and unique decoy solutions to the Korean Navy (ROKN, including AAW and ASW pyrotechnics utilizing cutting-edge technologies for warship self-protection), which deploy :
Corner Reflector Decoys (RF) against radar threats
Spectral Morphologic Infrared Decoys (IR) against passive infrared threats
Electro-Optic Laser Screening / Masking (EO) laser guided threats
Innovative Anti-Torpedo Solutions
Meet us at booth No. F501 - French Pavilion