LACROIX at the Langkawi International Maritime & Aerospace Exhibition (LIMA)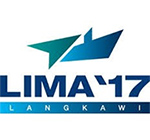 About LIMA
The main exhibition will be held March 21-25 at the Mahsuri International Exhibition Centre (MIEC) while the marine exhibition will take place at Resorts World Langkawi.
The Langkawi International Maritime & Aerospace Exhibition , LIMA, has been held biennially since 1991, and combines civil and defense sectors of both maritime and aerospace industries.
Almost 500 exhibitors, coming from 36 countries will be spread over 2 exhibition centers.
The event is co-organised by the Malaysian Ministry of Defence and supported by the Royal Malaysian Navy, The Royal Malaysian Air Force, The Royal Malaysian Army, etc..

Lacroix's participation
This year the Lacroix Defense team will once again be exhibiting at the LIMA exhibition, in the French Pavilion.
IMPORTANT: Please note that our booth will be located at Resorts World Langkawi, which will be dedicated to the maritime exhibition.
Meet us at Booth HD 241 in the French Pavilion near ECA & Kership.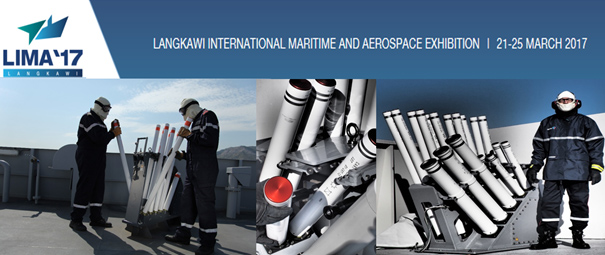 Product Focus
SYLENA
During LIMA 2017, we will mainly demonstrate our cutting-edge, compact SYLENA MK2 decoy launching system, which ensures superior platform protection.
Over the last 10 years our Research & Development team has developed 3 new Decoy Launching Systems [#DLS] to meet the Navies' requirements around the world.
We will be at your disposal to present other naval solutions (SYLENA LW, MK 1, MK2 decoy launcher, EM/IR/Anti-torpedoes ammunition, etc.) and to provide information regarding our range of capabilities to protect all kinds of vessels (fast attack crafts, OPV, OCV, frigates, etc.).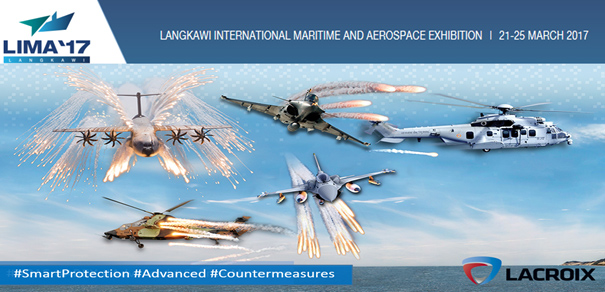 Airborne Countermeasures
At LIMA 2017, LACROIX is showcasing its latest self-protection solutions using cutting-edge technologies and advanced airborne countermeasures (MTV, spectral, dual, kinematic).
LACROIX provides a full range of solutions in all types of calibers, for combat-jets (F-16, F-18, Mirage, Rafale, etc.), for helicopters (Apache, Black Hawk, H225M Caracal, NH-90, CH-47 Chinook, Tiger, etc.), for Large Transport Aircraft (Hercules C130, Airbus A400M...)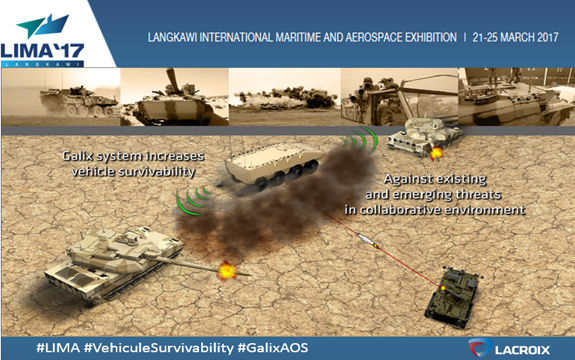 Galix AOS
At LIMA 2017, our team will also be at your disposal to discuss LACROIX's advanced solutions in vehicle survivability: the GALIX AOS (Automated Obscuration System) from detection to reaction - using green NT8 munitions - to protect all types of land platforms (MBT, AMV, APC, LAV, etc.).
Meet our team at the LIMA exhibition, Booth HD241, French Pavilion at Resorts World.