LACROIX at the International & Naval Defence Exhibition and Conference
ABOUT IDEX

This new exhibition will be held February 19-21 at the Abu Dhabi National Exhibition Centre (ADNEC). The International Defence Exhibition and Conference, IDEX, is the most strategically important tri-service defence exhibition in the world. Almost 1100 exhibitors will be spread over 35,000 sqm of exhibition space, covering all 12 exhibition halls. IDEX is dedicated to land & airborne systems, but also security.
ABOUT NAVDEX

the Maritime Security Area features local and international exhibitors providing naval, maritime and coastal security technology, equipment and crafts. Located on the dock edge, NAVDEX also features on-water exhibits, daily demonstrations and visiting navy vessels. The event is supported by the Emirates Defense Industries Company (EDIC), the Tawazun Economic Council, in association with UAE Ministry of Defence and Armed Forces.
This year the Lacroix Defense team will once again participate as an exhibitor at the IDEX exhibition, in the French Pavilion. Meet us at Booth O8, Hall A10, located by Thales.
Products Focus
SYLENA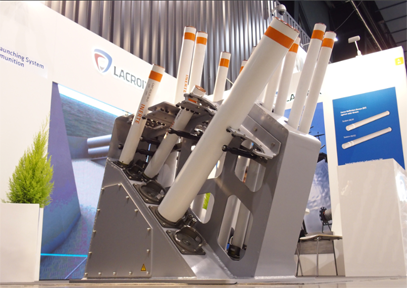 For the first time in the Emirates, we will be showcasing our cutting-edge, compact SYLENA MK2 decoy launching system, which ensures superior platform protection.
These last 10 years, our Research & Development team has developed 3 new Decoy Launching Systems [#DLS] to meet world Navies' requirements.
We will be at your disposal to discuss other naval solutions (SYLENA LW, MK 1, MK2 decoy launcher, EM/IR/Anti-torpedoes ammunition, etc.) and to provide information regarding our range of capabilities to protect all kinds of vessels (fast attack crafts, OPV, OCV, frigates, etc.).
GALIX AOS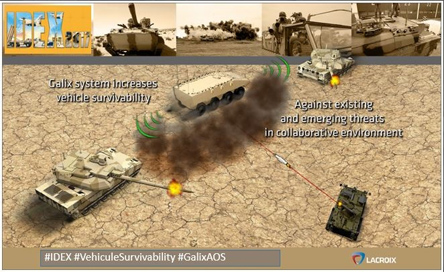 At IDEX 2017, LACROIX will be specially showcasing the GALIX AOS (Automated Obscuration System) along with the demo model unveiled at Eurosatory: from detection to reaction, using green NT8 munitions, to protect all types of land platforms (MBT, AMV, APC, LAV...).
OTHER ACTIVITIES
Our team will also be at your disposal to discuss LACROIX's advanced solutions in airborne countermeasures (combatjets, helicopters, largetransport aircraft, etc.), security & crowd control devices via our sister company, ALSETEX, but also training solutions & systems for Land Forces (training & simulation ammunition, LYNX realistic training system, etc.).
Our Regional Manager will be present to provide you with further details on LACROIX's service offer in the UAE through its Joint Venture EDS (Emirates Defense Services).
Meet Our Team at the IDEX / NAVDEX exhibition, Hall A10 Stand 08 , French Pavilion.