Expodefensa welcomes Lacroix in its french pavilion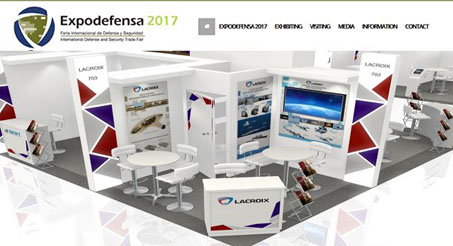 ABOUT EXPODEFENSA

Expodefensa is a Colombian exhibition which is held in Bogota each two years. Its main feature is that it is a tri-domain fair (Sea, Air, Land). This year it will be taking place from December 4th to 6th 2017.
Colombia is a defense and security hub in the region, accounting for 18% of defense (second largest country in South America). With official delegations from 27 countries in the region during the 2015 edition, Expodefensa provides exhibitors with the opportunity to meet public and private sector buyers in one place during the entire week of the show. The fair is organized by CORFERIAS and COGES and sponsored by the Colombian Ministry of Defense.
LACROIX's Participation
LACROIX will be pleased to welcome you at its booth in Hall 3 number 703 located in the French Pavilion.  LACROIX's participation is significant this year given that  2017 is the French-Colombia Year whose main aim is to strengthen their burgeoning bilateral relations, and to update France's perception of Colombia and vice versa.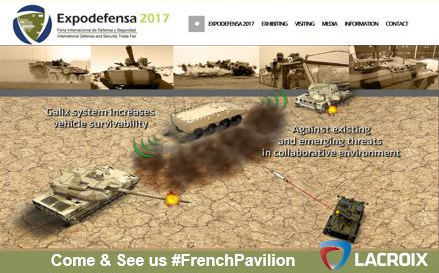 The products showcased will be the SYLENA range of Decoy Launching System and related munitions (SEALEM, SEALIR, SEALAT) for the naval domain, the GALIX system (designed for Leopard 2, BMP3, Leclerc tank, AMX 10, Fuchs, M113, Piranha, CV90, etc.) for the land domain, and LACROIX will present a full range of solutions in all types of calibers, for combat jets (F-16, F-18, Mirage, Rafale, etc...), helicopters (Apache, Black Hawk, H225M Caracal, NH-90, CH-47 Chinook, Tiger, etc...), and large transport aircraft (Hercules C130, Airbus A400M, etc...) for the air domain.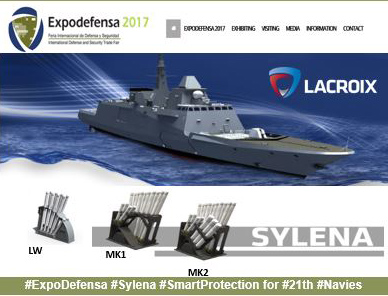 Communication during the exhibition
Expodefensa 2017 organizers have appointed as Official Media, our partner,  Army Recognition Group (dedicated to the the Defence and Security Industry) to provide the News Online and broadcast information on the Web TV.
During the week of Expodefensa 2017, the Army Recognition Group will also provide aDaily News Web TV broadcast available each day at 17h00 with news, reports and full coverage of the event.
If you would like more information about this event, we invite you to visit Expodefensa 2017 website and the Army recognition website as well.
Meet Us Booth 703 Hall 3, French Pavilion !