Euronaval: an Eventful 2018 Edition for Lacroix
About Euronaval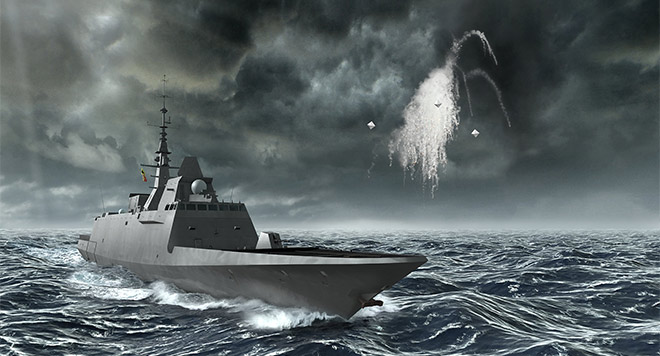 This new edition will be held from October 23-26 at Le Bourget exposition center in Paris. Euronaval is the world's largest International Naval Defence & Maritime Security and Safety Exhibition. Euronaval is set to celebrate its 50th anniversary with a condensed version over a 4-day period to be preceded by an international conference at the "Maison de la Chimie". With over 470 exhibitors, more than one hundred international delegations and 20,000 visitors expected, this 26th edition looks to be a prime occasion to attend events and make business contacts.
Lacroix's Participation
This edition of Euronaval will take on new significance as our Group, which has been exhibiting since the exhibition's debut, will be celebrating its 170th anniversary and taking part in association with GICAN to celebrate the exhibition's 50th anniversary on the theme of maritime innovation.
At our newly designed, can't-miss stand, visitors will learn about our SYLENA launcher range and SEACLAD ammunition, as well as other naval solutions (bombettes for submarines, signals, etc.) and naval aircraft solutions (aircraft flare decoys).
Product Focus: presenting our launchers and NG ammunition
Euronaval will bring to a close a year of heightened interest on the part of foreign navies in our SYLENA flare decoy launcher range and, more particularly, in our one-of-a-kind anti-missile terminal capabilities deployed by these systems, as well as the dual anti-missile and anti-torpedo capability we provide.
On the occasion of this 26th edition of Euronaval, our teams will be giving interactive demonstrations of the SYLENA system (launchers and firing equipment) as well as our range of dedicated ammunition.
We hope to have the pleasure of meeting with you during the demonstration of the following products:
SYLENA LW : compact missile protection system for patrol vessels and OPVs
SYLENA MK1 and MK2: systems designed to protect corvettes and frigates against missiles (MK1) and against both missiles and torpedoes (dual MK2 system)
SEACLAD: a range of countermeasures against missiles and torpedoes from the oldest to the latest generation.
Workshops
In order to demonstrate the effectiveness of our NG solutions and effects, we will be taking an active role in this 50th edition, and during the workshops in particular.
Attend Lacroix's workshop on Tuesday, October 23rd  from 3:30-4:00 pm dealing with its expertise, an approach to electronic warfare and, more particularly, evolving threats, corner reflector technology, etc.
Find more information on workshops via this page
A Retrospective:
Excellence and innovation have been at the core of the Etienne Lacroix Group's values for decades. As a longtime member of the GICAN, it was only fitting that we take part in the retrospective to be given by the organizing body for the occasion of Euronaval's 50th anniversary.
From the Dagaie system, which took into account the first countermeasures as early as the 1980s, to the development of the latest generation (NG) countermeasures and the 3 launchers developed in just the past ten years, we will be showing the major steps in our commitment to supporting navies in France and abroad.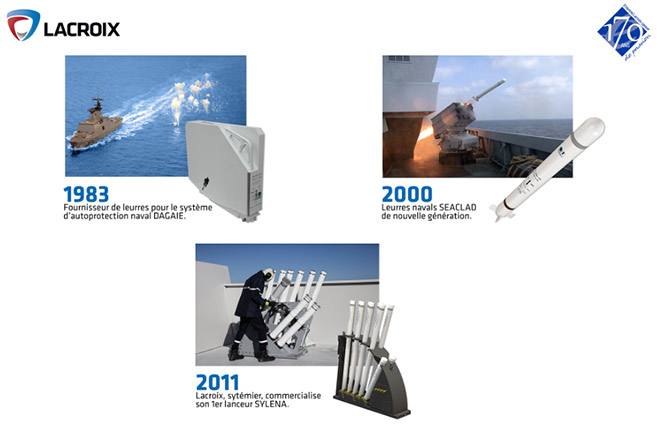 The 2018 edition of Euronaval takes on historical significance for the Etienne Lacroix Group: 170 years of dedication!
Established in the area of Toulouse since 1848, Etienne Lacroix has a long history in manufacturing fireworks and staging shows, and has been able, through the decades to expand, innovate and diversify. 170 years later, Etienne Lacroix is now a major player  in the pyrotechnics field and its ecosystem: fireworks displays and international shows, defense/self-protection, civil safety and law enforcement, armed and security forces support, packaging and plastics processing, distribution, transport and logistics, etc. 
As regards defense, it was at the end of WWII that the Group, managed by Roger Barès, took a decisive and visionary turn, to enter the defense pyrotechnics market.

Lacroix's activities cover the range of fields of the 3 armed forces, and more precisely naval, air and land.
Click on the image below to learn about the Group's key points of development since its founding.

Visit us at Euronaval 2018, Stand G121.