Lacroix will showcase at Dimdex 2018
ABOUT DIMDEX

This new exhibition will be held from 12-14 March at the Qatar National Convention Centre. DIMDEX 2018 will celebrate its 10th anniversary, and is one of the most important Maritime & Defence exhibition in the MENA area. This event, organized by the State of Qatar and proudly hosted and organized by Qatar Armed Forces, is expected to surpass previous official VIP delegation this Year.
LACROIX's Participation
LACROIX will be pleased to welcome you at booth109  Hall 4 - during the Doha International Maritime Defence Exhibition (DIMDEX) in Qatar.
Our team will be hosted under the French Pavilion, organized by GICAN, whose ambition is to promote the development of the French maritime industry, within the context of global economic "maritimisation".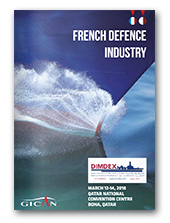 Discover the full French Pavilion program here
Our company has been participating in DIMDEX since its very first edition, and we are very proud to showcase there once again and to celebrate this 10th anniversary.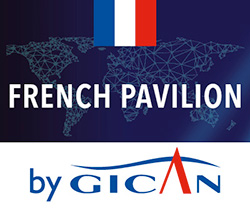 Discover also the interview of our representative for the official GICAN publication
Products Focus
SYLENA DLS : Regarding the naval market in the area, we will present our cutting-edge, compact SYLENA MK2 decoy launching system, which ensures superior platform protection.
In the last 10 years, our Research & Development team has developed 3 new Decoy Launching Systems [#DLS] to meet world Navies' requirements.
We will be at your disposal to discuss other naval solutions (SYLENA LW, MK 1, MK2 decoy launcher, EM/IR/Anti-torpedoes ammunition, etc.) and to provide information regarding our range of capabilities to protect all kinds of vessels (fast attack craft, OPV, OCV, frigates, etc.).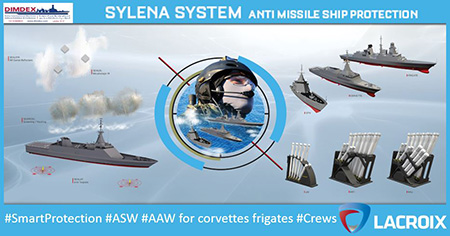 GALIX AOS : At DIMDEX 2018 LACROIX will be specially showcasing the GALIX AOS (Automated Obscuration System) from detection to reaction, using green NT8 munitions, to protect all types of land platforms (MBT, AMV, APC, LAV...).
Considering the Qatari's aim for modernization of defence systems and equipments, but also in view of the success encountered on the worldwide market, LACROIX is presenting GALIX AOS to meet the requirements of Land Defence Force's programs.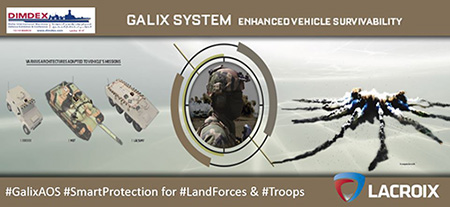 Meet us at booth 109 Hall 4