Lacroix Defense At Paris Air Show 2017
Paris Air Show 2017: LACROIX to Feature Life-size Countermeasures at the One-of-a-Kind Air Show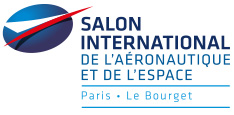 Our team is gearing up for the Bourget Air Show to be held June 19-25 at the Le Bourget International Airport in Paris.
The first 4 days are reserved for trade professionals and are followed by 3 days open to the general public.
About the Paris Air Show 2017
The Paris Air Show is THE most important international air show in the world. With over 2300 exhibitors from 48 countries, 296 international delegations and 150,000 trade professionals expected - not to mention the 200,000 visitors from the general public -, the 52nd edition looks to be exceptionally eventful.
Lacroix Features a One-of-a-Kind Stand for the 52nd Edition
During this exceptional event, we will be pleased to have you visit our stand D77, located in Hall 2B, has been completely redesigned with pleasing colors and presentation sections to showcase the various formats of decoy flares and pyrotechnic components for the aerospace applications.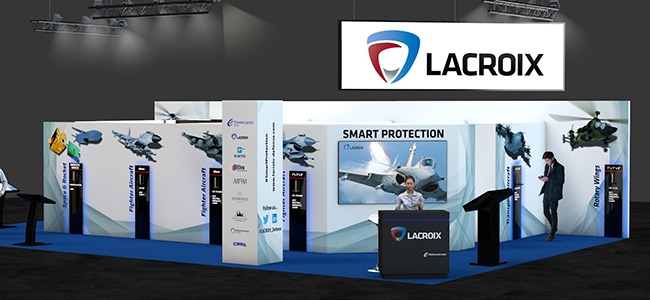 A Wealth of Innovations and Presentations for the 2017 Edition
On the product front, it will be our great pleasure to show you our latest cutting-edge, countermeasures solutions, and more specifically:
Our IR decoy flares (MTV, spectral and kinematic) and 1''x1'' chaff dispensers in compliance with STANAG 4687 to protect helicopters (NH90, Caracal, Tiger, etc.) transport aircraft (C-130, A330, KC-390, etc.) and, of course, fighter jets (F16, etc.)
Our NATO 2''x1'' dispensers for fighter jets (F16, etc.) and transport aircraft, including the series specific to the A400M, are combat proven and employed by numerous countries.
We provide calibers specific to fighter jets - 40mm/50mm/60mm - from the Mirage 2000 to the Rafale or the Sukhoi 30. Our R&D department keeps up with the evolving requirements for countermeasures to protect combat aircraft.
Our pyro-mechanisms have both military and space applications. For example, did you know that our R&D teams at LACROIX design special components to take part in highly innovative projects such as the Micro-Carb and One Web satellites and the Ariane 6 launcher with players such as Pacific Scientific and the CNES?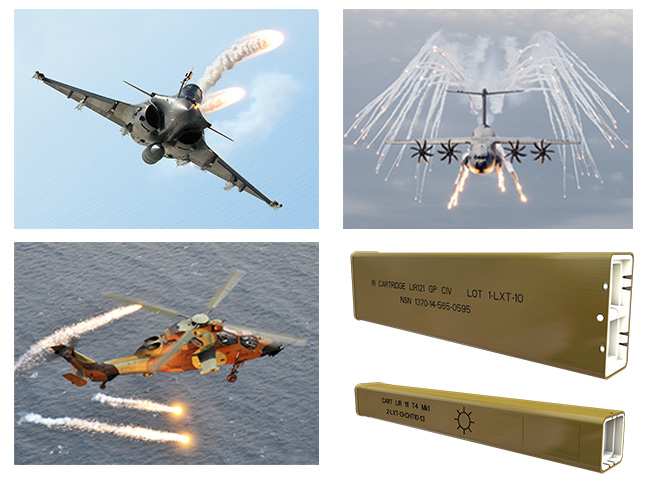 52nd Paris Air Show: Lacroix launches a new website
Lacroix's teams are putting up an all new site for the 52nd edition of the Paris Air Show. Be the first to see the new design of the product dropdown menus: information about activity sectors, product range specifics, press reviews, videos, etc.
Click on the image below to discover the improvements in browser experience.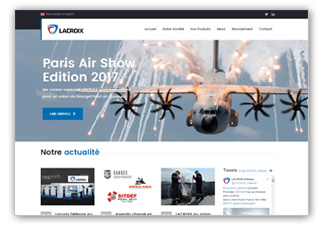 Stay updated by following us on Twitter and Linkedin