SYLENA MK2, Galix AOS & ACM to be previewed on BIDEC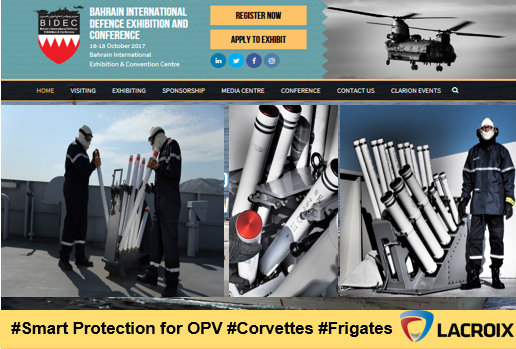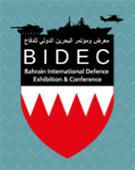 LACROIX, a leader in air, land and sea countermeasures, will be pleased to welcome you to our stand B10 in the French Naval Pavilion, during BIDEC to be held October 16-18, 2017 in Manama, Bahrain.
Products Focus : SYLENA LW and SYLENA MK2: easily integrable, light and compact decoy launchers.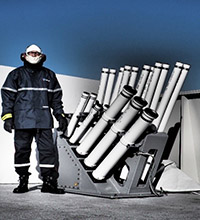 During BIDEC 2017, we will mainly demonstrate our cutting-edge, compact SYLENA MK2 & LW decoy launching system, which ensures superior self-protection of your valuable platforms.
These last 10 years, our Research & Development team has developed 3 new Decoy Launching Systems [#DLS] to meet world Navies' requirements.

We will be at your disposal to present other naval solutions (SYLENA LW, MK 1, MK2 decoy launcher, EM/IR/Anti-torpedoes ammunition, etc.) and to provide information regarding our range of capabilities to protect all kinds of vessels (fast attack crafts, OPV, OCV, frigates, etc.).
GALIX AOS
For over 30 years, Lacroix has been supplying self-protection systems to land forces around the world.
These systems, known as GALIX, equip thousands of platforms (Leopard 2, BMP3, Leclerc tank, AMX 10, Fuchs, M113, Piranha, CV90, etc.)
The effectiveness of GALIX and its munitions resides in its capacity to mask vehicles for threat protection (laser designator, laser beam rider, laser range finder, thermal camera, etc.) in not only the visible range, but in laser and infrared.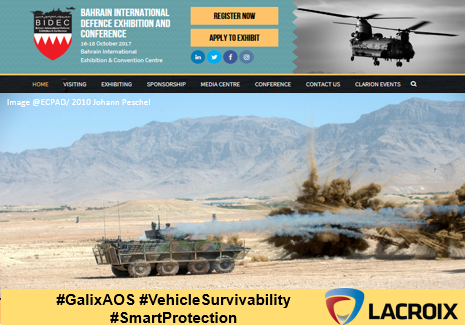 Airborne Countermeasures
At BIDEC, LACROIX is showcasing its latest self-protection solutions using cutting-edge technologies and advanced airborne countermeasures (MTV, spectral, dual, kinematic) for its MENA customer and users.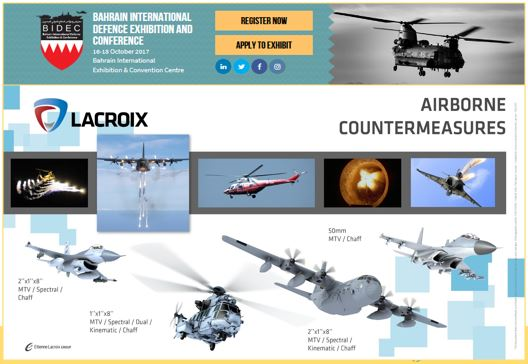 LACROIX presents a full range of solutions in all types of calibers, for combat jets (F-16, F-18, Mirage, Rafale, etc...), helicopters (Apache, Black Hawk, H225M Caracal, NH-90, CH-47 Chinook, Tiger, etc...), and large transport aircraft (Hercules C130, Airbus A400M, etc...).
BIDEC 2017 will be our 1st Participation, Meet US on the #FrenchPavilion Booth B10 !